Overseas merit fellowship Finland challenge 2017 - intensiivikurssi 2.-17.9.2017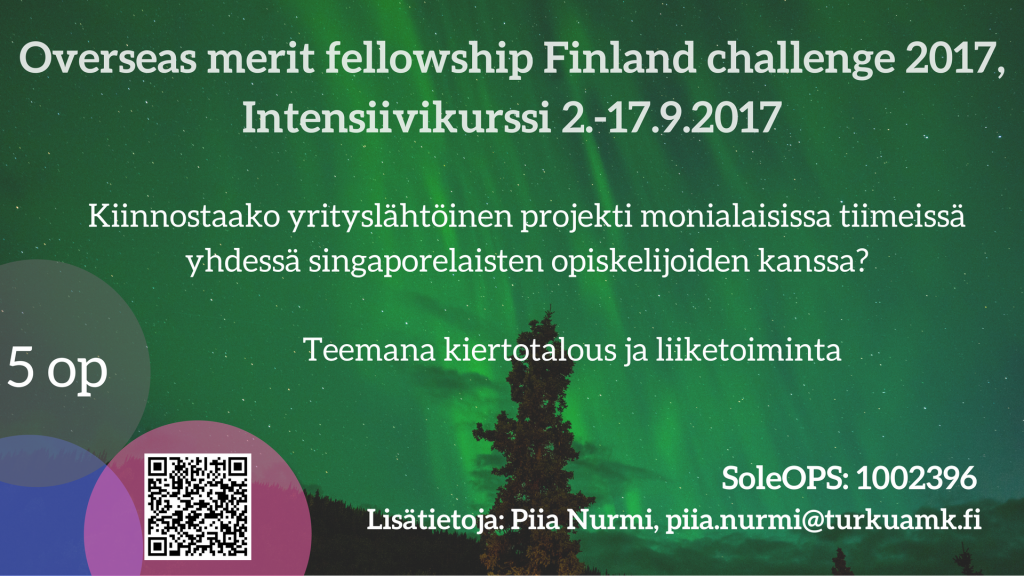 Turun AMK tarjoaa suomessa opiskeleville opiskelijoille sekä singaporelaisen Ngee Ann yliopiston opiskelijoille intensiivikurssin syyskuussa 2017. Kurssin puitteissa toteutetaan Innopeda-oppimisotetta eli opiskelijat opiskelevat monialaisissa tiimeissä ja tekevät yrityslähtöisen projektin yhdessä. Erityisenä teemana kurssilla on kiertotalouden ja siihen liittyvien yritysten ja liiketoiminnan oppiminen. Muut oppimistavoitteet alla listattuna. Kurssi sopii erityisen hyvin henkilöille, jotka haluavat luoda vahvat verkostot ja henkilökohtaiset kontaktit aasialaisiin opiskelijoihin ja heidän kauttaan työelämään ja liiketoimintaan.
Lisätietoja: piia.nurmi@turkuamk.fi, 0403550931
Tervetuloa mukaan tälle aivan upealle intensiivikurssille syyskuun alussa!
Students from TUAS can take part in the same module that 20 students from Singapore will study at Turku on 2.-17.9.2017
Actually the obligatory intensive days are 3.-13.9. The remaining days are a possibility to visit also Rovaniemi with the Asian students. On 2.9. the group arrives.
SoleOPS code: 1002396
Kurssin tavoitteet:
To challenge students in critical thinking and global awareness
To empower students with a multidisciplinary mindset, skills and knowledge
To expose students to technology, innovation and the humanities
To inspire students to take action on a community issue or problem.
Gain insight into Asian and European culture, in particular, the historical and cultural context
Appreciate the role of technology and innovation in driving industry and social change
Comment critically on global and social issues from multidisciplinary perspectives (eg; technology/innovation/business/the humanities)
Acquire good communication skills i.e. essay writing and presentation skills